2015 Haunted Houses & Attractions in Miami
The quick and easy way to find all the exciting Halloween attractions in the Miami area for 2015! Halloween is just around the corner, and if you're looking for some spooky fun then you've come to the right place. We've put together a list of local Miami haunted houses, hay rides, spook walks, and more for the scariest day of 2015! Check out all the attractions below - there's something for everyone!
Located in Boca Raton
855-99-Haunt
Closed today. Next open 10/2/15

Enigmas have risen in South Florida! Tortured souls, demons and undead abominations now roam free, haunting the land and searching for prey! They have crossed into our world, and now they are on the hunt. Will you survive the Enigma Haunt? Read More

Located in Miami
(305) 400-7000

The apocalypse may have been predicted to end the world on 12/21/2012, but something else happened to change life as they knew it. On that fateful date the world did not end, however, something tragic happened which changed the Aztec world forever.

A plane carrying Toxic Bio-Chemicals from a research lab in Mexico flew off course and crashed into the ruins of the Aztec city surrounded ... Read More
Halloween 2014 MiamiHauntedHouses.com attracted over 12,163 visitors.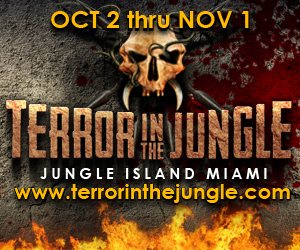 Featured 2015 Halloween Events
Miami Halloween Events
Halloween event list including haunted houses, corn mazes, hayrides, spookwalks, home haunts, and more.